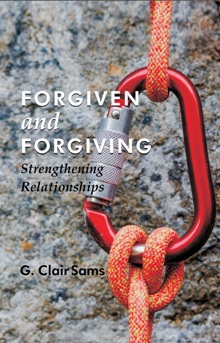 Forgiven and Forgiving
Author:
G. Clair Sams
Quantity in Basket:
None
Price:
$14.99
Shipping Weight:
0.50 pounds
Some wrongs can never be righted. They can only be forgiven.
Ideas and claims of justice, equity, and even fairness are brought into the fray: Who forgives who? And for what are we forgiven? Is there a practical extent to forgiveness, or a line that cannot be crossed, where forgiveness has no merit? Clair Sams gives us to understand that forgiveness is fundamental to our understanding of justice, as well as foundational to our ability to embrace mercy. The impact of forgiveness is far more profound than "allowing" for a misstep, or extending pardon to an otherwise unworthy recalcitrant soul. It forever places us in the redemption cycle for the salvation of those closest to us in acquaintance, if not in fellowship.
The author shows how we find that "working out our salvation" means we must deal with the consequences—and sometimes those consequences are terrible matters. What does it mean to forgive? Why is forgiveness necessary? Why can't we just find a path around such pain and not suffer with bearing a load of guilt?
But he also shows that only the sacrifice of forgiveness can restore the beginning of a shadow of redemption, which will continue to brighten as broken relationships are healed and forgiveness rights our own relationship with God.
According to Rev. Sams, forgiveness honors personhood. Everyone has been hurt by the actions of another. However, failure to avail ourselves of the grace of forgiveness is a prediction of failure. We must acquiesce to biblical patterns and respond to biblical warnings.
Forgiveness is a choice; unforgiveness always creates problems because it builds a wall of indifference. (Adapted from the Foreword by Mark S. Russell, Jr.)
"Forgiving anyone in a meaningful way can be one of the hardest things a person can do. Forgiveness always costs. However, if you do not forgive, resentment and vengeance will destroy you. Clair Sams draws on a half-century of pastoral care to take us on a 'deep dive' journey into what forgiveness really is… It is a journey we need to take—again and again. Forgiven and Forgiving will guide you on that journey but will do it in the context of grace. The message of forgiveness has always been relevant but maybe never more than today!" (Michael Avery, President, Deeper Life Ministries)
"…A searching examination of the wonderful gift of forgiveness." (John Young, Evangelist)