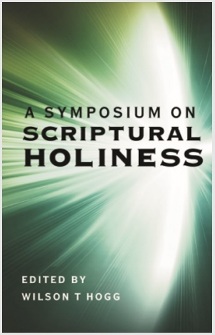 A Symposium on Scriptural Holiness
Author:
Edited, Wilson T. Hogg
Quantity in Basket:
None
Price:
$12.99
Shipping Weight:
0.60 pounds
A Symposium on Scriptural Holiness is an extremely rare holiness classic. More than twenty authors dig deeply into different characteristics of the Second Blessing. Compiled by Wilson T. Hogg (who authored our book, The Holy Spirit under the name "Hogue") most of these chapters were originally prepared as articles for a special Holiness issue of the "Free Methodist" newspaper, March 4, 1896. The first chapter is by B.T. Roberts, founder of the Free Methodist Church. More than twenty-four chapters, with such topics as Holiness not Understood, Holiness the Main Theme of the Bible, The Nature of Scriptural Holiness, Legal and Evangelical Holiness Contrasted, Holiness Attainable in the Present Life, Holiness a Privilege, Holiness a Necessity, Fruits of Holiness, Retaining Holiness, Holiness and Reforms, Practical Holiness, Spurious Holiness, and many more. This is a volume to occupy a prominent place on every Wesleyan bookshelf. Item #:5959; 136 pages. Trade paperback.
This Schmul Publishing Co. edition is not a scanned facsimile of a used book. It has not been "updated" or edited into modern English, punctuation or grammar, but is accurate to the author's own style and usage. It has been carefully proofread for accuracy and typeset for easier reading by today's readers. Consequently there are no odd characters or missing text.