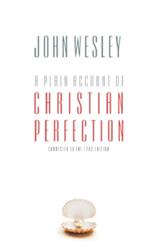 A Plain Account of Christian Perfection
Author:
John Wesley [STUDY EDITION]
Quantity in Basket:
None
Price:
$13.99
Shipping Weight:
0.70 pounds
The Study Edition is identical to the normal-size trade paperback, with the same text and page numbers, but its generous 8"x10" size provides extra-wide margins for notes. It has proven popular with many who are studying this important work. Item #:5851; 110 pages. Trade paperback.

This little book is John Wesley's most definitive explanation and defense of the doctrine of Entire Sanctification. It was tremendously important to Wesley and the early Methodists, but over the ensuing years changes were made in the formatting of the text. Presumably these changes were intended to render it more readable to the audience in each era for which such alterations were made. As readership changed with the passing years and more changes were made to accommodate each generation's usage, the original manuscript became festooned with modifications that moved outside Wesley's usage and style. But in A Plain Account of Christian Perfection one must exercise caution. As H.E. Schmul warned, even a slight change in punctuation may alter the intent of Wesley's original text. Correcting this manuscript bore out Dr. Schmul's observation. Therefore an extant copy of the Fifth Edition has been the resort for this volume, as "Printed by J. PARAMORE, at the Foundry, Moorfields: And sold at the New Chapel, City-Road; and at the Rev. Mr. Wesley's Preaching-Houses in Town and Country, 1783." (From the original title page.)

This Schmul Publishing Co. edition is not a scanned facsimile of a used book. It has not been "updated" or edited into modern English, punctuation or grammar, but is accurate to the author's own style and usage. It has been carefully proofread for accuracy and typeset for easier reading by today's readers. Consequently there are no odd characters or missing text.