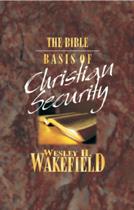 Bible Basis of Christian Security
Author:
Wesley Wakefield
Quantity in Basket:
None
Price:
$9.99
Shipping Weight:
0.32 pounds
T
he Bible Basis of Christian Security
addresses the question of the security of the Believer, taking the position that the Christian is secure in salvation on the basis of faith in Christ. However, because that faith must be maintained, the Bible teaches that the Christian may fall from grace and be lost forever. This book examines the doctrine of unconditional eternal security and contrasts it with specific passages of Scripture that plainly state otherwise. The author assures the reader that the Christian is secure, however, based on the ability of grace to liberate from the power and guilt of sin. Such grace depends on the faithfulness of the Christian to abstain from sin through the Holy Spirit. Teaching points on both sides of the controversy are examined one by one in a fair and even-handed manner. Very clear and concise, without being confrontational. (Note: replaces old item ISBN 088019054X.)
Item #:5770 / 56 pages.
Trade paperback.