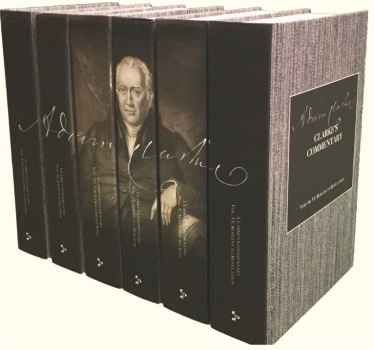 Clarke's Commentary - Six Volumes
Author:
Adam Clarke, M.A., LL.D
Quantity in Basket:
None
Price:
$374.99
Shipping Weight:
24.50 pounds
Dr. Adam Clarke (1760-1832) was a Methodist theologian and Bible scholar contemporary with John and Charles Wesley, founders of the Methodist Church. His carefully prepared and highly acclaimed commentary on the entire Bible expounds on the Authorized Version, including the marginal readings and parallel texts. The commentary and critical notes are designed as a help to a better understanding of the sacred writings. This faithful reprint of the beloved six-volume set consists of more than 5,500 pages. It is considered the most comprehensive commentary on the Bible ever prepared by one man.
The set has a unique design across the spines, presenting a beautiful work of art to be displayed on your bookshelf. It is a statement that you prize this opus for the masterpiece that it is.
The first full-size reprint in decades, not reduced to a smaller, cheaper paperback format. Each 7"x10" page (just like the original) has been carefully examined and hand-cleaned of marginalia, notations, and other marks from previous owners of the source volume. Item #: 5614. Hardback.
Each volume is a direct image reproduction of a sourced volume that may contain uneven lines, broken type, ink marks or other imperfections, typical and characteristic of the development of the print process at the time the original volume was printed.
Price does not include shipping and handling. We charge only the exact cost of shipping, plus $2.00 for the cost of shipping materials.