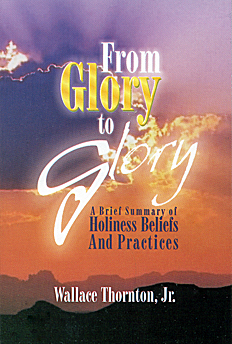 From Glory To Glory
Author:
Wallace Thornton, Jr.
Quantity in Basket:
None
Price:
$7.99
Shipping Weight:
0.19 pounds
Have you ever been questioned by colleagues or visitors to your church about your beliefs and practices? Ever wondered how best to respond? This little booklet provides a complete outline of the practical life of holiness in brief, easy-to-read answers. Arranged by topic with scripture index and a list for suggested further reading. Special for pastors and churches: you can order this handy tool in bulk packs at exceptional savings up to 55% off! Perfect to give away to visitors.
Item #:4308; 38 pages.