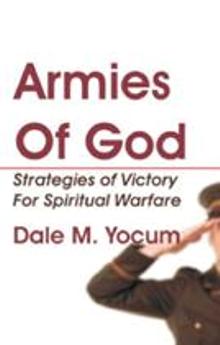 Armies Of God
Author:
Dr. Dale M. Yocum
Quantity in Basket:
None
Price:
$12.99
Shipping Weight:
0.55 pounds
Armies of God, Strategies of Victory For Spiritual Warfare
Author: Dale M. Yocum, Ph.D.
Armies of God draws on Biblical battles for applications in spiritual victory today. As a US Air Force Lt. Colonel (Ret.) Dr. Yocum is at his best in this volume—a spiritual and devotional book for young and old. Chapters and topics include War In Heaven, The Holy War; Israel, God's Army; The Church, God's Army; Victory at Damascus; When God Goes to War; Conflict with Three Kings; God's Gift of Jericho; Learning From Failure; Star Wars; Strategy for Success; Is There Not a Cause?; Battle Plan for Victory; Strength for the Battle; Good Soldiers of Jesus Christ; Home-Trained Soldiers; War With the Lamb. Item #: 2232; 144 pages. Trade paperback.