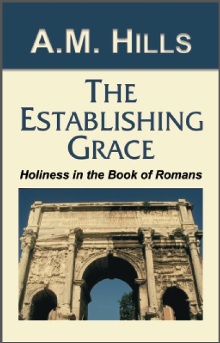 Establishing Grace
Author:
A.M. Hills
Quantity in Basket:
None
Price:
$10.99
Shipping Weight:
0.30 pounds
Establishing Grace: Holiness in the Book of Romans
Dr. Hills is conceded to be in the very foremost rank of theologians in the holiness movement. This short treatise is as fine a piece of work as Dr. Hills ever has done and we feel that it should be given a wide circulation. The doctrine of entire sanctification as set forth in the New Testament, and as advocated by the Wesleyan movement, has been the subject of much misunderstanding and prejudice. But could it be proved that sin must remain in the heart of a believer during the course of his natural life, even the most serious objection that could be raised against it would be that those who advocate it maintain too high an estimate of the redemptive power of the blood of Christ and too exalted an ideal of Christianity. But the author reviews the entire sin question in the light of the fullness of the New Testament dispensation and shows conclusively from the scriptures that the atoning work of Jesus Christ must forever have as its objective, the deliverance from all sin and the infilling and indwelling
of the Holy Spirit as an abiding Comforter. (
H.
Orton Wiley)
Item #:1872; 92 pages.
Trade paperback.