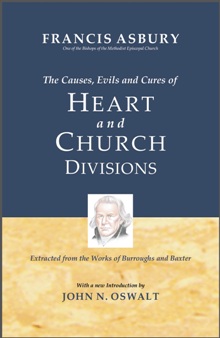 Heart and Church
Author:
Francis Asbury
Quantity in Basket:
None
Price:
$14.99
Shipping Weight:
0.50 pounds
The Causes, Evils and Cures of Heart and Church Divisions
"This new edition of Bishop Francis Asbury's only book is, in fact, a compilation of two other books that the father of American Methodism found particularly appropriate and helpful to his situation. That situation was church division, a subject that is much on the minds of American Methodists today. The authors, and Asbury, by extension, are concerned to identify the personal issues that have often led to division. This book can be recommended precisely because it will help the reader to identify in himself or herself, most of all, these tendencies and to allow the Holy Spirit to deal with them. All this being said, it must be pointed out that the fracturing that is presently occurring in the United Methodist denomination is not, by and large, the result of these causes. Some might say differences of opinion over human sexuality are the causes of the divisions, but that issue is only the presenting cause. The real cause is much deeper. It is one that has been entrenching itself in the denomination for a century in deeper and deeper ways. The impact of this matter was often muted throughout the intervening years and its significance, while pointed out by some lone voices, could be overlooked by the many. Now its effect has become unmistakably clear. What is this issue? It is the issue of biblical authority… —Adapted from the new Introduction by John N. Oswalt Item #:6505; 168 pages. (Trade paperback)
This Schmul Publishing Co. edition is not a scanned facsimile of a used book. It has not been "updated" or edited into modern English, punctuation or grammar, but is accurate to the author's own style and usage. The text has been carefully proofread for accuracy and formatted for easier reading by today's readers. Every effort has been made to prevent disordered text. The only intentional alteration is the standardization of chapter numbers for the modern reader's ease of use.